In addition to hearing aids, a wide range of technologies support hearing health.
Assistive listening devices, or ALDs, are designed to increase accessibility and support hearing in public and private settings. Many ALDs are compatible with hearing aids, providing comprehensive hearing support.
There are numerous types of ALDs, including personal microphones and amplifiers, connectors for TV, and hearing loop systems.
At Northwest Hearing, we are committed to providing access to innovative technologies that serve as effective heating solutions for you. This includes the latest ALDs produced by Phonak, one of the largest hearing aid manufacturers.
Phonak offers a line of savvy hearing technologies that further improve hearing, especially in environments that can be more challenging to hear. This includes: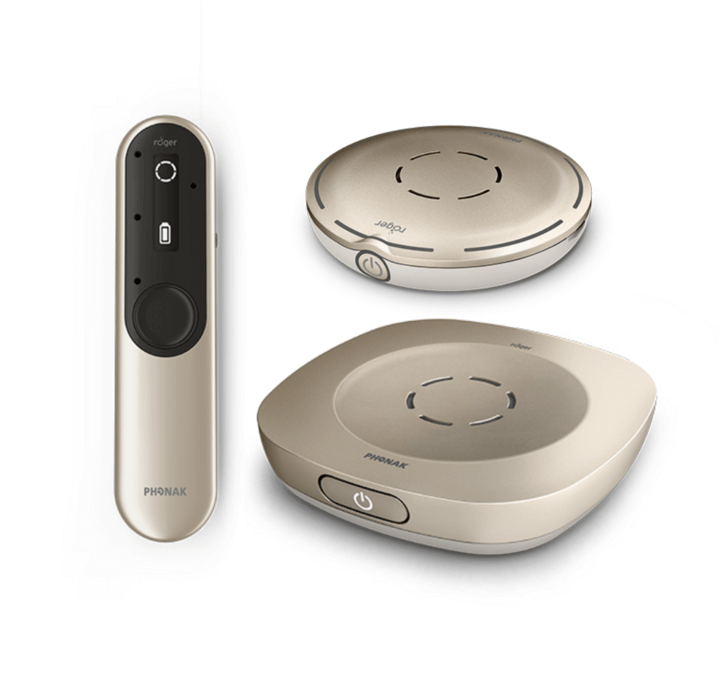 Roger Wireless Microphones
Roger is Phonak's intelligent wireless technology designed to transmit speech directly to hearing aids. This line of technologies includes personal clips on microphones, table microphones, and more. These microphones transmit the speaker's voice directly to hearing aids, delivering greater speech clarity. According to Phonak, these assistive listening devices provide up to 62% more understanding of speech in noise and over distance when wearing hearing aids.
Phonak's TV Connector is a wireless device that streams TV and music directly to your hearing aids. Using Bluetooth technology, hearing aids can directly connect to the TV or music sources and become like stereo headsets! Sound from these other audio sources can then be adjusted by hearing aids in specific ways that meet the wearer's hearing needs. This provides enhanced sound quality and allows people to watch TV or listen to music (or podcasts) comfortably.
These technologies are among many that provide comprehensive hearing support. Our audiologist will discuss the options that may work best for your everyday life.
Visit any of our locations today!
We have offices in Steamboat Springs, Craig and Frisco, Colorado providing hearing exams as well as hearing aids and repairs.